Switcheo Referral Program brings extra benefits of 25% discount to New Users. Use Switcheo referral code at the time of registration and enjoy the benefits of Switcheo Refer and Earn scheme. If you like decentralized exchanges and want an added security for your funds, Switcheo is the best exchange for the purpose. Switcheo exchange had over 61 tokens to trade with different trading pairs i.e. Neo, ETH, BTC and USD.
Not only Switcheo exchange is decentralized, It also gives a simple interface to trade and access to your Private Keys are always there. Switcheo exchange had been my personal preference among decentralized exchanges. All Neo ICO's you can trade First on switcheo. Not only this you would also be able to trade ERC-20 coins and even BTC and USD pairs. In switcheo you can either chose to login via Private key also. Or you can chose to create an account with your email and get access to your account.
Not only This Switcheo is also giving lottery tickets to it's users when they refer their friends and family on board. With these tickets one may get chance to win a prize from a pool of 40,000 USD in form of BTC.
Switcheo Referral Code

1D6C31

 Register and Grab Free 25% Discount on Trading Fees

You may also like
➡ Duedex Referral Program – Register to Duedex and Grab 70$ Free Trading Bonus |No Deposit Needed
How to Complete Registration at Switcheo + 25% New User Discount Promo
1. Visit Switcheo, Click on this Referral Link Click Here
2. Click on Join Now.
3. You would be redirected for registration process.
4. Now you have the choice to either register through Switcheo account i.e. email or through Blockchain Wallet like Metamask or your privatekey.
💡 in both the options you have access to your private key associated with your account. So, you have the ultimate access of your funds (An Advantage of Decentralized exchange over Centralized one like binance or Bitmex)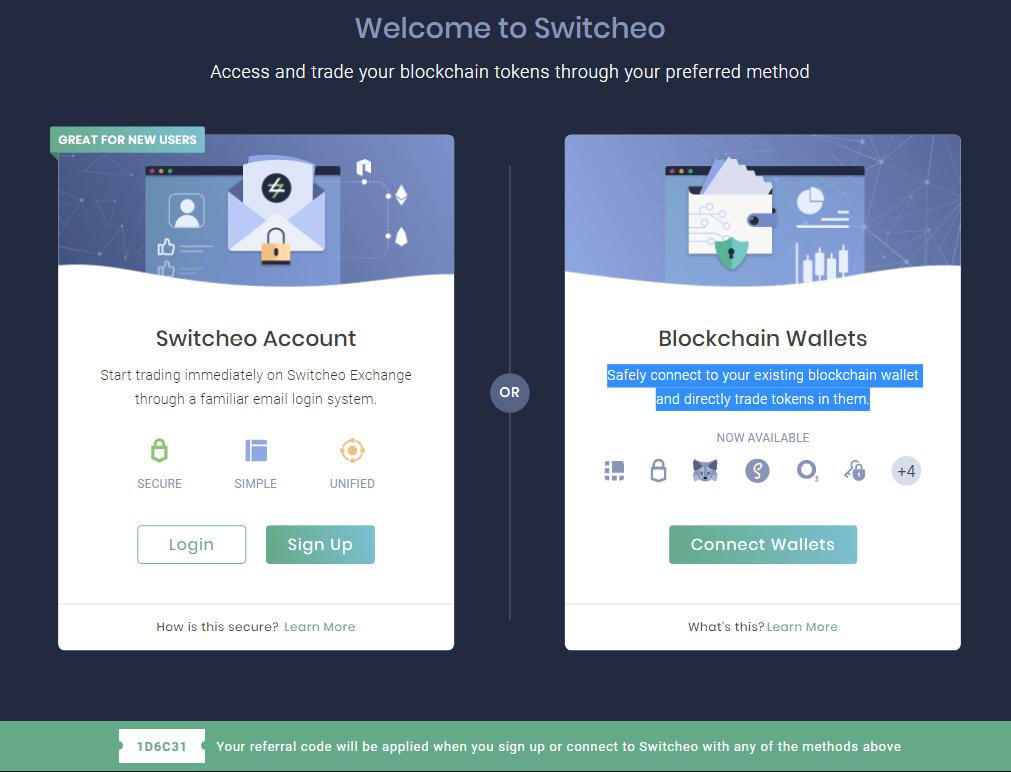 5. To register with email click on Signup under switcheo account.
6. Now enter your email and desired password in the box and Referral Code (If not prefilled) 1D6C31 in referral code box.
7. Remember to choose your anti phishing code.
8. Accept Terms and conditions and click on Next.
9. Save your Backup Phrase and in next step confirm the same and click on Next.
10 Click on verification link in your email and confirm your email and click on Next.
11. Now Add Google Auth to your account. Scan the QR code from the Google Auth App and enter the 6 digit code from your app.
💡 this creates and extra added security layer you have to confirm your google Auth when you sign in or withdraw funds from you account. So even if someone had access to your login credentials even then your funds would be safe.
12. Now your account is ready to use you can deposit to your account from your wallet section and trade on Switcheo Network seamlessly.
Switcheo Referral Program – Enter A Chance to Win from 40,000 USD BTC Pool
Under Switcheo referral program you can get discount of 25% on Trading Fees whereas I would be getting 50% commissions for my referrals from switcheo. It's win-win situation for both of us. switcheo is a good exchange and got more than 180 trading pairs. And the number is still increasing. To access your switcheo account you don't need to complete KYC. It's simple and one can completes his/her registration in no more than 5 minutes.
You can always choose to register via private key or via email. It's on one's personal preference
Why I chose to use Switcheo with Email
Register Here Click Here
Email is more easily accessed.
I can remember my email and password more easily than my privatekey
Google Auth with the account creates an extra layer of security to the account.
Buying with and credit/Debit card is also an added bonus.
You got access to your private keys even when you register with email.

How to Get Switcheo Referral Code and Switcheo Giveaway Ticket
1. Visit Switcheo Click Here
2. Go to your Portfolio section under your wallet and there is your referral code located.
3. Copy your referral code and share it with your friends and family.
4. When they register they would be getting an discount of 25% on their trades and you would be getting 50% commissions from Switcheo.
5. For every successful referral you would also be credited with a ticket for Switcheo lottery Ticket.
How Does Lottery Tickets Work?
Your earned tickets gives you chances to win in the exclusive giveaways amounting to a total of $40,000 in Bitcoin (BTC). You earn lottery tickets by
Refer your friend would get you 1 Entry Ticket
When referred friend completes a trade of 500 USD or more. You would be awarded with a Silver Ticket
When your friend completes trades of 5000 USD or more. You would be awarded with a Golden Ticket
A Giveaway ticket would be equal to 1 chance and silver ticket would be equal to 10 chances. Whereas a Golden Ticket would bring 100 Chances with it.
At the end of the campaign the chances are to be calculated and based on that you would be awarded prizes.
Top 5 Referrers in this campaign (OCT 2019 to JAN 2020) would be getting prizes of 1000 USD each.
Tickets are only valid for 3 months only. After every three months Tickets are going to reset and There would be new campaign with more bigger prizes.
Terms and Conditions
1. Switcheo retains the rights to revoke any referral to your account by any fraudulent means.
2. Referral would get the 25% discount promo only for the first three months of their registration.
3. Getting a lottery ticket doesn't certain the wining of an user. However more people you refer higher the chances of your wining.