I am mining on Nvidia 1080 Ti and since last few days market had taken a dip and many coins had loses their value. However market is recovering. But Last coin Zero Coin is not profitable now. The Best Mining option for 1080 Ti is Sigil. I am presenting you the best Sigil miner and how you can mine Sigil Coin. The coin is new and is only listed in one exchange only. If you are finding Most Profitable mining coin for 1080 Ti your search ends here. I had added both Sigil coin solo mining guide and sigil coin pool mining guide for all users.
Profitability now decreases to 5 USD, Coin is added to stocks.exchange, Solo Mining guide added
Hope you liked zero coin mining. But now there is red days comed and price of the cryptocurrencies is lowered. Zero coin is most suffered and now it's not so much profitable. None the less Zero coin project is promising and you can hold coins till Q3 2018 if you want. Sigil coin is the new addition to 1080 Ti mining which is giving 20 USD per day profit. I won't recommend you to hold Sigil but mining is profitable. And you can earn handsome rewards with the same. For now Sigil is the most profitable coin I had found.
Sigil platform is a crowdfunding platform which enables individuals or ventures to raise money. All have to do is Share the idea why others should fund you, and you can collect money via crowdfunding through Sigil platform. The system is wholly decentralised and thus does not incur any central fees. And the money reaches you instantly.
At this time Sigil token is only at coinhouse.eu trading at 0.000075 BTC. I am mining this coin since last two days and it's giving 13-15 coins on per card per day basis. That moves to the profit of 0.001125 BTC, Which is 15 USD per 1080 Ti Card. As this coin works on both proof of work and proof of stake. You can also Stake Sigil and earn more coins Along with GPU mining.
Sigil coin Mining – 15 USD Profit on Nvidia 1080 Ti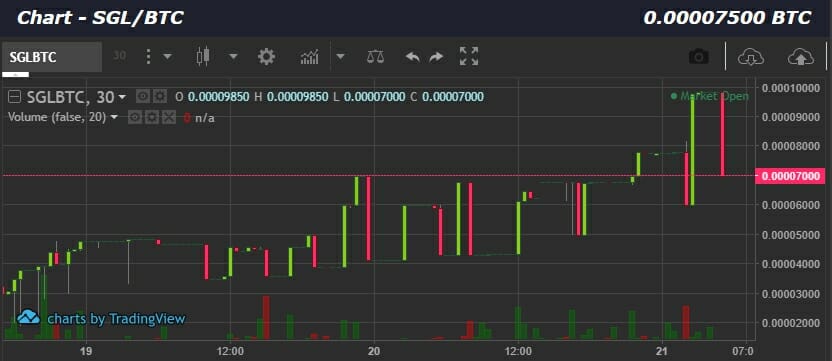 Coin is No More Profitable Now These are the Latest Updates
➡  Best Nvidia coin Mining – Grin Coin Mining + Exchange to Trade
➡ Binance Futures Referral Code – 10% Trading Fees Discount using Referral Code WEBLEONE
Sigil Mining Specifications
Proof of Work Mining
Ticker : Sgl
24 Hour Profitability : 15 USD
(15 coins per day , current price  0.000075 BTC)
Miner : ccminer 818 Cuda 91 (KlausT Version)
Temperature : 62°C at 85% TDP
Algorithm : Neoscrypt
Block Time : 1.5 minutes
Block Reward : 25 SGL
Total Supply: 50,000,000
Difficulty Retargeting: Orbitcoin Super Shield
Exchange : Coinhouse, Stocks.exchange
How to Mine Sigil Coin?
Join Sigil Coin Pool.
1. The one I recommend would be Sigil Official Pool Click Here
2. Register to Sigilmining using email address, password and your Sigil address.
In Sigilmining you can use exchange address. In other's pool you should download Sigil wallet and sync it to network.

Other Pools are

| | |
| --- | --- |
| lpool.name/pool/SGL | luckyaltcoin.com |
| neopool.xyz/ | mcip.eu/ |
| sgl.odin-ict.nl/ | |
3. Login into Sigilmining and Go to mining dashboard.
Create a Worker for Sigil Coin Mining
4. On the Side Bar click on My Workers under my Account Tab.
5. Create worker enter worker name and password.
6. Now You had created the Worker.
Best Miner To Mine Sigil Coin
7. You Need to download a Miner Download KlausT for the same. This miner is best suited for Neoscrypt algo in Nvidia Cards. Click Here
8. Extract the files.
9. Download this Bat file. Click Here
10. Open file with notepad and then change these.
ccminer -a neoscrypt -o stratum+tcp://sigilmining.com:3333 -u

ahmeddanish226.user

-p

password
Change 

ahmeddanish226.user

to your

username.workername

change 

password

to your

worker password
11. Paste this file in ccminer Klaust folder.
12. Run Sigi.bat and you are mining Sigil now.
You may also like
 ➡ Binance Referral Program – 20% Trading Fees Discount
➡ PrimeXBT referral Program – Lowest Trading Fees for Leverage Trading
Sigil Coin Solo Mining Guide
1. Download Sigil Wallet     WINDOWS     LINUX    MACOS
2. Open wallet (sigil.exe) and give network permissions (They will prompton when you run wallet for the first time) Sync it to Network.
3. Now click on Receive and get your receiving address.
4. Download this .conf file  Click Here
5. Paste this file in data folder
Windows – This is located in the same directory as the sigil.exe

Linux- press Ctrl+H to view it

MacOS- Press Ctrl+Shift+G and type /Users/YourUsername/.sigil and there you will find it.
6. Download ccminer from above Click Here
7. Restart your wallet and keep it open for solo mining.
8. Open Command Prompt, track you ccminer directory.
e.g. if your ccminer folder is located at desktop then type
cd desktop
then,
cd ccminer folder
then,
ccminer –a neoscrypt –o http://127.0.0.1:39655 –u sigilrpc –p sigilcrypto  for Windows
or
./ccminer –a neoscrypt –o http://127.0.0.1:39655 –u sigilrpc –p sigilcrypto   for Linux
this will look like this

9. Press Enter and Now you are Solo mining Sigil coin.