If you liked previous Solana airdrop on Binance Listing. FTX Solana Airdrop had bring more joy, Now you can win a Tesla cybertruck and many more prizes. Solana listings have always been rewarding and There is no reason to leave free money. You must register to FTX exchange if you want to enter in this Solana giveaway.
If you are getting some error or have any questions ask in comments below.
Note – FTX is not operational now, they had filed for Bankruptcy chapter 11
Solana Listing on FTX – Claim up to 1000$ For Free + Chance to win a Cybertruck
(Trading Fees Discount Link) FTX Registration Click Here
Solana Airdrop Page Click Here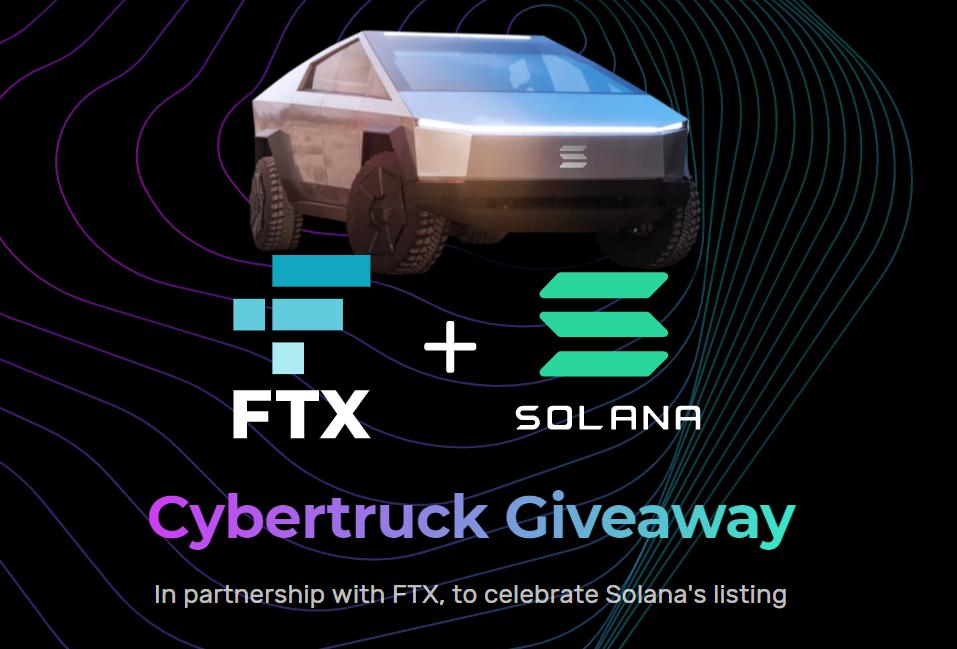 How to Claim SOL Airdrop?
1. Register To FTX exchange, If not already Click Here
2. Visit airdrop page Click Here
3. Enter your email, FTX referral ID, telegram username and twitter username.
4. Once you have entered those details, You are successfully registered for Airdrop.
5. Complete the following tasks
Join Solana Newsletter. To complete this task enter your email in the specified place.
Join "Solanaio" on Telegram
Follow Solana on Twitter
Buy at least 5 Solana on FTX
Refer 1 Friend
➡ Check Best Crypto Exchanges Here
➡ 10% Discount on Futures Trading at Bitmax + 5 days of Copy Trading Free
Rewards in Solana Airdrop
Solana Airdrop Random Rewards
If you complete the tasks you all are eligible for Random rewards which are
500 SOL tokens Random reward would be given to 1 participant
20 SOL tokens would be given to each 250 participants.
3 SOL tokens would be given to each 1000 participants.
So, only your registration to this event could bring you good prizes.
Solana Airdrop Grand Prize
There are also some grand prizes which are
1 Tesla Cybertruck
Top referrer would get 1000 SOL tokens.
People in top 10 referrers would get 25 SOL tokens each.
Top 100 Referrers would get 10 SOL tokens each.