Bitmax had now enabled copy trading on it's futures platform. If you are someone who is new to derivative trading and don't know much about technical analysis. But still you can trade like a pro with BitMax Copy trading feature. Copy Trading feature would help you to get maximum profits from your BitMax Futures Trade. Not only you would be getting maximum profits, Also your risks are managed by the top traders. Isn't this good?
If you had still not joined Bitmax use our referral code to join and grab 10% discount in fees in spot trading and 20% rebate in your futures trade. There is also a Free trial for Bitmax Futures copy trading. You should try out this feature.
BitMax Futures – Claim 10% Off on Trading Fees + Free 5 Day Trial of Copy Trading

Register at Bitmax Futures
1. Visit Bitmax Futures Click Here
2. Register or Login to your BitMax Futures account using your email and password.
3. Go to Copy Trading Page.
4. Choose trader you want to copy trade. Click on subscribe to copy trades.There is a 5 day free trial, you won't be charged any subscription fees for first 5 days.
5. You can subscribe to multiple traders, But can copy trades of only one of them at a time.
6. Remember on your subscription auto renewal would also be turned on. Remember to turn that off in case you want to avoid future subscription fees.
Copy Trading at Bitmax Futures + Free Trial
Like every trading platform whether it is Forex or Crypto. 5% of traders gets the 95% of profits. To be in those 5% you must be a good risk manager and lots of financial knowledge. You can learn more about trading and gain financial knowledge with the span of time. But at which cost, If you are planning to learn by doing trades in leverage. It's too costly.
How? Your risks are multiplied with leverage you choose on trades. Crypto market is still one of the most volatile markets. Pumps and dumps are not new, But even then if you are planning to do futures trading. I won't say it's worth it.
Why choose Copy Trading at Bitmax?
Why? Your risks and profits are managed by the top traders. While you can maximize your profits by making positions with them. You can also manage your risks with them. Not every trade is profitable. It's the bitter truth of the trading. With copy trading you can increase your chances of win and can make systemic growth of your portfolio.
This doesn't mean that you must use copy trading for life. But If you are new to futures or derivative trading, I must say this could be the best option for you. Try to gain more knowledge about trading, maintain your risks. Knowledge is the best way to improve your trading skills.
Access Copy Trading on BitMax Click Here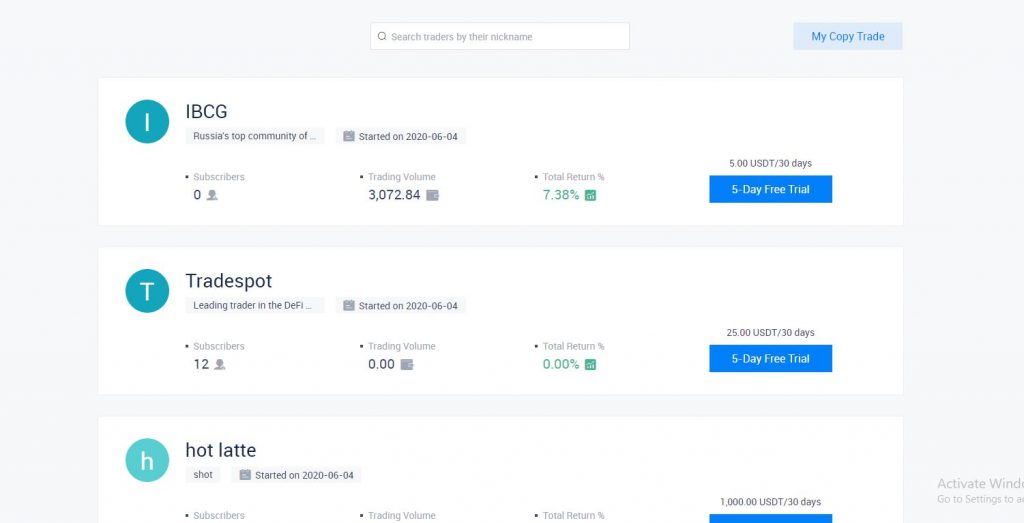 Claim 10% Discount on Trading fees on Binance Futures using referral code WEBLEONE. Click on this link to know more.
Why To Choose Copy Trading?
If you are still one of them who rely on telegram pump and dump groups. And technical analysis of other traders, this might be the best feature for you to join BitMax. Now instead of following their trading calls, you can just follow their trades. You can make entries like the top traders and maintain your positions like them too. Bitmax is also giving a 5 day Free trial to use their copy trading feature Which is icing on the cake.
After free trial you can choose monthly subscription of your favorite top trader to copy their trades on Bitmax Futures.
How Top Traders Make Profits From Copy Trading
Everyone is here to make money, Right? So, enabling users to copy trades like a pro with copy trading will come with a fee. While you can make use of 5 days of free trading. You must have to pay top trader a subsequent monthly fee for your copy trading. A part of this will go to exchange, and top trader would also be earning his share of profit.
You can give them a part of your profits as monthly fee. This would be their earning. This is a win win situation. But remember to choose your top trader wisely.
Here is the link for BitMax Top Registration Click Here
Remember you have to complete your level 2 account verification before applying to BitMax top trader. After completion of Level 2 verification. You can submit your application from the account section.