Binance is listing Solana (SOL) on their trading platform. To celebrate Solana Listing on Binance They are giving airdrop of up to 1000$ in SOL tokens as reward. There is no special requirement to claim this airdrop. You only need a binance account. This airdrop is available for users till 9 April 2020.
Solana is a A Web-Scale Block chain for Secure and Scalable Decentralized Apps and Marketplaces. It's a project founded by the former employees of Qualcomm, Intel, and Dropbox engineers in late-2017. It's set to be listing on Binance on 9 April 2020. You can trade SOL/BTC, SOL/BNB and SOL/BUSD pairs on Binance. SOL Tokens were sold through an auction on Coinlist.
Solana Listing on Binance – Claim up to 1000$ For Free
Binance Registration Click Here
Solana Airdrop Page Click Here
Activity Period – 5:00 AM (UTC) 7 April 2020  to 0:00 AM (UTC) 9 April 2020 
Promotion is now extended till 10 April 2020. 24 hours more to join the Airdrop
Check latest Solana Airdrop on FTX Here
You may also like
➡ 10% discount on Trading Fees @ Binance under Binance Referral Program
➡ buy CELO on coinlist Auction + Grab 10$ and 30 Days Free Trading under coinlist Referral Program
How to Claim SOL Airdrop?
1. Register To Binance If not already Click Here
2. Visit airdrop page Click Here
3. Enter your email, Binance referral ID, telegram username and twitter username.
4. Once you have entered those details, You are successfully registered for Airdrop.
5. Complete the following tasks
Join Solana Newsletter. To complete this task enter your email in the specified place.
Join "Solanaio" on Telegram
Follow Solana on Twitter
Read the primer.
6. When you complete these tasks find claim airdrop in the bottom of the page.
7. Answer the questions to complete your entry in the airdrop.
Answers to Solana Airdrop Quiz
| | |
| --- | --- |
| Questions | Answer |
| How many transactions per second did Solana process in its last global benchmark? | 59,490 |
| What is the core innovation letting Solana perform faster than any other blockchain? | Decentralized Clock |
| How many seconds are Solana's block times? | 0.4 |
| Where did Solana's founders work on embedded systems and operating systems for 15 years? | All the above |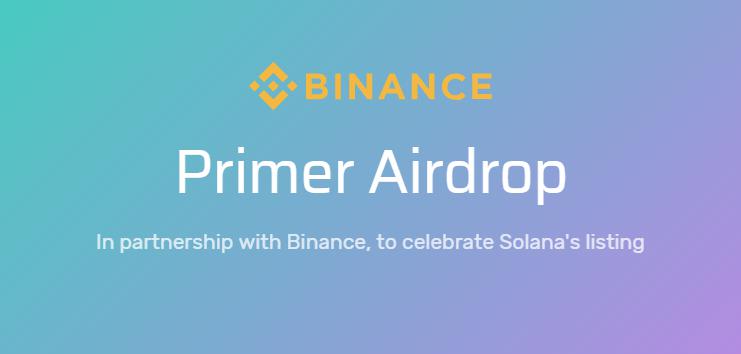 Binance Solana Airdrop Reward
20$ is the assured reward for first 1000 users who complete all the 5 Tasks. All users who complete all these Binance Solana Airdrop tasks would be eligible for random draw of 10$ and random draw of 100$. All users who participated in this event (even if tasks are not completed) would be able to get random draw of $1000 in SOL tokens. The rewards in the airdrop would be distributed in the following manner.
| | | |
| --- | --- | --- |
| | Eligible Participants | Rewards |
| First 1000 Users who Completed All 5 Tasks | First 1000 users | 20$ for 1000 Users |
| Completed 3-5 Tasks | Everyone | Random Draw of 10$ for 3000 Users |
| Completed 4 Tasks | Everyone | Random Draw of 100$ for 10 Users |
| All Users who completed 5 Tasks | Everyone | Random Draw of 1000$ for 1 User |
Tasks for Solana Airdrop
Task 1 – Complete The Solana Quiz
Task 2 – Join Solana on Telegram
Task 3 – Follow Solana on Twitter
Task 4 – Subscribe to Solana Newsletter
Task 5 – Refer your friends to Solana
Solana Referral Link
You can find your referral link on completing all the tasks. It's located on the airdrop page. Click Here to get your referral link
Terms and Conditions
1. Bounty rewards are distributed at rate 1 SOL = 0.22 USD.
2. Only one entry is allowed per binance account.
3. Binance account is a must for the airdrop.
4. Airdrop is only valid for users registered before 9 April 2020, 00:00 AM UTC