KuCoin Free Invites are needed to join interactive platform by KuCoin. You can earn lots of free rewards by playing games and doing simple tasks on KuCoin Play. At this time KuCoinPlay is in beta and only limited number of users are invited to join KuCoinPlay. If you are not on the list don't worry we have some free invites which would help you to get to KuCoinPlay.
Kucoinplay has now re brand itself as winplay. Now you can play Kucoinplay games at winplay.app. To grab free invitations to Kuvoin's newest gaming platform Winplay visit the winplay exclusive invites link. Invitations are Totally FREE and you can earn prizes worth thousands of dollars just by playing simple and easy games.
Start 2020 with the Big Prizes from kucoinplay. Join the 1 Million USD giveaway in which top 500 users would be getting prizes worth 1000 USDT each and 50 random players would be getting prizes worth 10,000 USDT each. and the festival doesn't ends here there would also be an lottery where you can win other exciting prizes.
KuCoinPlay is free, You don't need to pay anyone to join and  tasks and mini games are free. You can use the link below to register to KuCoin and KuCoin play. If you are getting any errors you can contact me via comments. I would help you with all the errors, you can also contact me for free email invites.

Earn free coins like NPXS, KCS NIX and others by just playing simple games and doing some tasks. KuCoinPlay is an interactive platform with mini games and daily tasks. Mini games are fun to play, and daily tasks are easy. Daily tasks in KuCoinPlay would be following a project or watch a video for 30 seconds. When you complete these task you would be awarded with points on the basis of which rewards would be distributed. They are giving prizes to up to 1000 places.
KuCoinPlay is both rewarding and fun. And you must try it.
Kucoinplay is now WINPLAY Enjoy the games and rewards. Here are the Free Invites for all of you
KuCoinPlay is Now Winplay Free Invites – Earn Money by Playing Games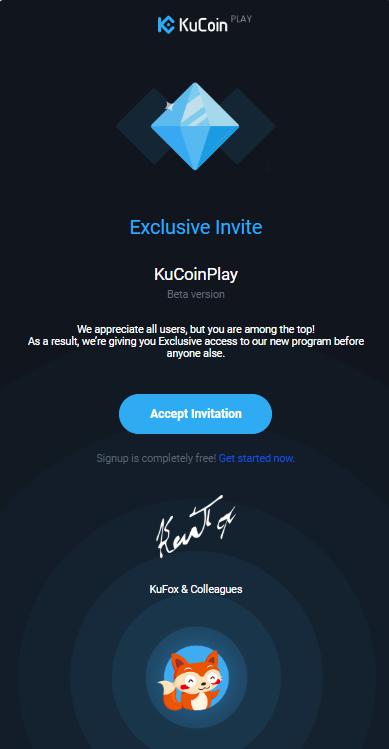 You may also like
➡ Register to Bitmart and Grab Free Bitmart Tokens
How to Join KuCoinPlay One Million Giveaway
1. Visit Click Here
2. Register or Sign in using your existing Kucoinplay account (NOT with Kucoin Exchange Credentials)
3. Once you Logged in to your account, Click on join one million Giveaway.
4. Complete easy tasks and you are in the race to grab exciting prizes.
5. Top 500 users would be getting prizes worth 1000 USDT each and 50 Random players would be getting prizes worth 10,000 USDT each.
How to Get Invite for KuCoinPlay One Million Giveaway
1. Register to Kucoin Click Here
2. Click on the link to register on KuCoinPlay Click Here
3. Enter your email and choose your password.
4. Now proceeds to next step and enter your mobile phone
5. An OTP would be recived on your phone.
6. Enter that and complete your verification.
No OTP Recieved Error on KuCoinPlay
If you are not able ton receive OTP on your mobile phone. You can try receive OTP via call method and you can receive your OTP via a phone call.
Email Not Invited Error
Please comment with your emails below, I would send you invites by emails.
You may also like
➡ Save 50% on Trading Fees on Binance
Terms and Conditions
There are some rules by which you must use KuCoin play platform. And they are necessary for fair use of operating games and platform.
1. Spam contents are NOT allowed.
2. All the activities on the platform are under rigorous inspection any malicious attempts to violate the games or platform could result in permanent suspension of your account.
3. All rights are reserved to KuCoinPlay. They can amend any rules without prior notice.