Binance is adding FTX leverage tokens to it's trading platform. I will be explaining what are leverage tokens and how will they bring more profits to you when you trade at Binance. FTX leverage tokens can be bought at FTX exchange. If you still hadn't register to this amazing exchange. Please register and enjoy this amazing arbitrage opportunity.
Arbitrage trading is one of the trading where you can get assured profits. Arbitrage happens when there is different prices of same tokens on two different platforms. Here you just have to wait for the right time and secure your profits. Trading in arbitrage scenarios doesn't require anyone to be expert in charts or a good trade. All it require is the keen eye to spot the best trading opportunity.
We know how a coin pumps up when it get listed on binance. A lots of coins from FTX exchange are getting listed called as the FTX Leverage coins. and they can get you assured profits when you trade in them. Either you are an expert trader or a beginner. This opportunity shouldn't be missed.
FTX exchange is one of my favorite exchanges. On FTX exchange you can choose between various crypto derivatives such as futures, OTC, MOVE and Leverage. FTX exchange is one of the highest liquid markets. So, trading on FTX exchange is bliss.
Note – FTX is not operational now, they had filed for Bankruptcy chapter 11
FTX Leverage Tokens – Listing on Binance, Buy Before Listing to Grab Profits
Update : Binance had delisted all FTX leverage Tokens from their trading platform on 31 March 2020. The reason was Lack of understanding How Leveraged tokens work. The tokens are then credited in form of their equivalent USD price at the time of removal. You can check your binance wallet for your balance.
You can still Trade FTX Leverage Tokens on FTX exchange, Bitmax and Poloniex.

Today's Listing at Binance
How to Buy FTX Leverage Tokens
1. Register to FTX Click Here
2. Complete your KYC verification and bind your google authentication for extra safety.
3. Under the Leverage Token Section buy the contracts which are gonna list on Binance (i.e. XRPBULL, XRPBEAR etc)
4. Go to your wallet section and withdraw them to your Binance account.
➡ Click Here to register with Binance Referral Program
5. Now wait for the trading to start.
6. Keep your orders ready and secure your profits.
What are FTX Leverage Toknes?
You are well familiar with leverage trading if not please visit What is Leverage Trading? In Leverage Trading you hold positions of an asset. How it gonna be perform in a future. Then by taking collateral in form of leverage from the exchange you are making your trades.
FTX Leverage tokens holds the positions  in the futures contract. That means it's the same as leverage trading but with lower risks (3X Leverage). You can leave behind the worry of liquidation and in appreciated (i.e. Bull) or depreciated (i.e. Bear) scenarios you can make good profits. These coins work as if market goes 1% up then the Leveraged Tokens would go 3% up (with 3x leverage) and vice versa. You should always be wary of the risk involved with the trade. I am only recommending for arbitrage trades which can get instant profits. If you want to hold your position that's all on your own discretion.
FTX Leverage Tokens are ERC20 Tokens that can be deposit and withdrawn at both Binance and FTX exchanges.
Currently these FTX Leverage Tokens are listed on Binance.
ETHBEAR, ETHBULL, BEARUSD
and today on 12 February 2020 These are to be listed
XRPBULL, XRPBEAR, EOSBULL, EOSBEAR
there are still more tokens on thew exchange including BNBBEAR, BNBBULL, LINKBULL, LINKBEAR, ETCBULL, ETCBEAR and more. In future they also might added to the Binance trading platform,
Profits on FTX Leverage Tokens
on 17 January 2020 ETHBULL was added to the Binance platform. Refer to charts
Here you ETHBULL can be bought at about 1200 USD and it could be sold in between 1400 to 5208 (5208 if you are lucky). so that's quick profit of 15% and that shouldn't be missed.
Today XRPBULL, XRPBEAR, EOSBULL and EOSBEAR are gonna list and you can make good profits on them.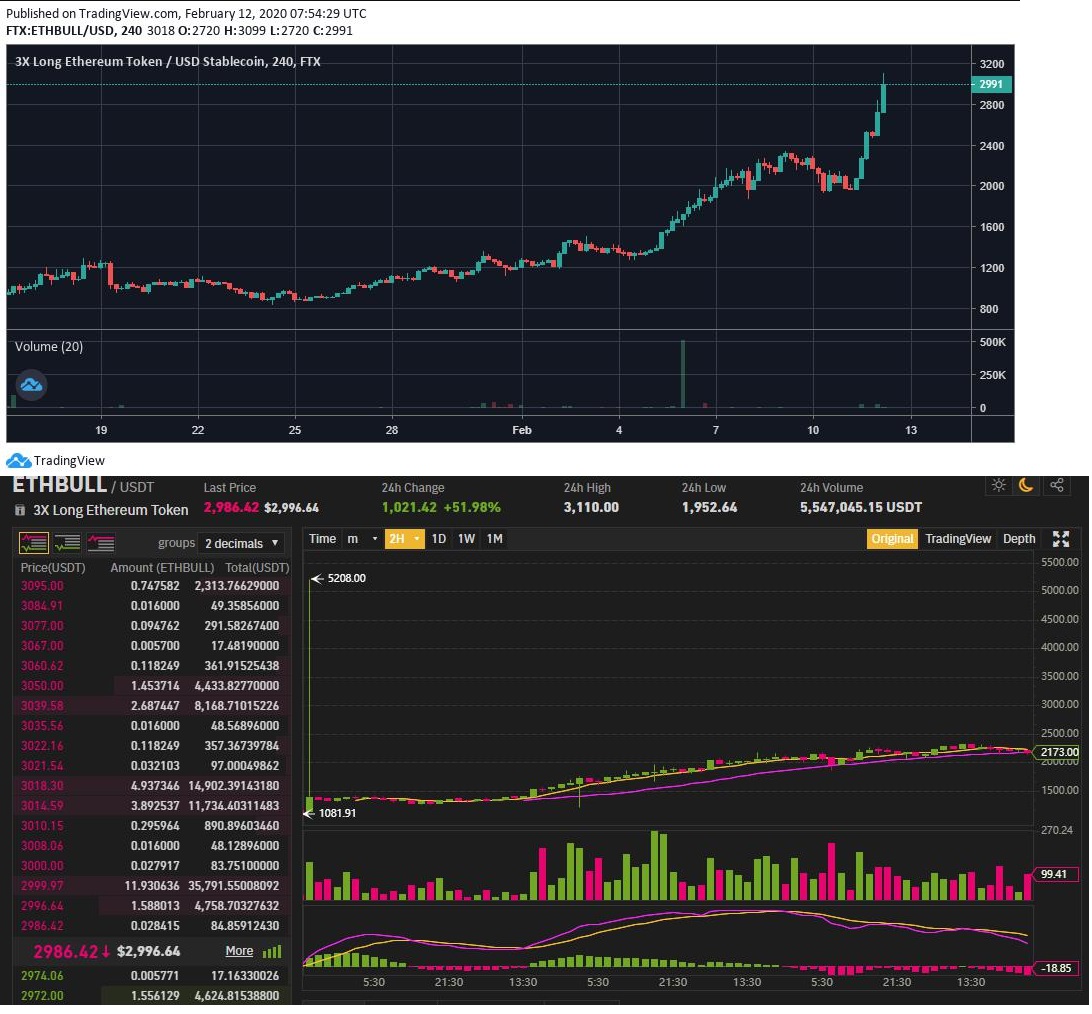 Read more about FTX Leverage Tokens Click Here